Hey everyone!
My name is Lauren, and I tend to get ahead of myself. An excellent example of this is the fact that I've been writing blogs for Nora Gray for about three months now and realized that I never actually told you who I am. I'm like Batman or Gossip Girl but on accident. Anyway, I decided with the help of my girls at Nora Gray, to write a short blog post about the girl behind the keyboard. AKA- me.
I'm not sure if you have experienced this, but writing about yourself is extremely difficult, so I decided "Why not just make a bulleted list?!" Excellent idea, self! Good job. So here are five quick facts about me.
I was born and raised in Berne, Indiana (Home of Nora Gray!) Holla!
This indirectly means I am Swiss. I mean, I think I'm Swiss. I was told once that I was, so I just kind of roll with it now.  I also made the pledge in 7th grade to be a Starfire until I die. So, here I am.
I went to Ball State University.
Chirp, Chirp! Where my cardinals at? I graduated in 2014 with a degree in Telecommunications: Sales and Promotions. The coolest thing that happened to me in my four years was definitely seeing Oprah Winfrey and David Letterman my junior year! I also cheered on the BSU All Girls Squad!
My daughter's name is Emery.
Emery Vera Louise or "Emmylou" is the love of my life.  She was born with Schizencephaly, Septo Optic Dysplasia, and Epilepsy.  Last November she had brain surgery to help ease the seizures! She is a very kick butt little female ... and she also has better style than me.  
I've always been a fashion lover.
When I was a toddler I once threw a tantrum because my mother had told me to put a dress on for church that, get this, I had already worn! Yeah, I might be a lot of things, but an outfit repeater at the age of 4 was NOT one of them.
My mom proofreads my blogs.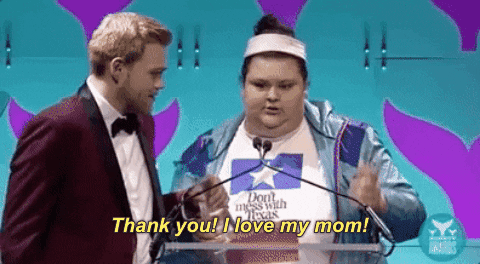 Thanks, mom. 
Those are five super quick facts about me. But as a post script I want to make sure to tell you to check out these blogs in the next few weeks. We've got some pretty cool things coming your way!